ColorPrint™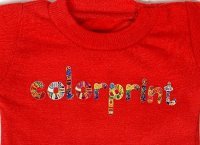 We provide our ColorPrint line prepared for Roland ColorCAMM, Gerber Edge, Summa DC series, GCC Nautilus and other thermal transfer print and cut systems using pigmented resin-based ink ribbons.
We offer our ColorPrint and GlitterPrint line of films punched for tractor feed and unpunched for friction feed devices.
These materials can successfully be printed with solvent/eco-solvent inkjet printers, but our ColorPrint Solvent line of films provides a softer hand and greater flexibility than our films for thermal transfer printing.
ColorPrint Standard CP-2100 is a smooth surfaced white PVC film for thermal transfer printing and plotter contour cutting. You can print brilliant colors and cut and hold fine detail.
ColorPrint Economy CPE-2110 is a paper-backed material designed for screen printing. *Not designed for thermal transfer printing.
ColorPrint Nylon CPN-2150 is identical to the ColorPrint standard version, but with a lower temperature activated adhesive for use with nylon garments.
GlitterPrint GP-2500 is a smooth surfaced, white PVC film that incorporates glitter flecks to add sparkle to your print.
Use our Transfer and Seal transfer tape for easy transfer stability and improved image life for all of our ColorPrint and GlitterPrint films.