Economy Flex®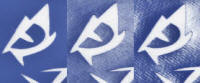 A thicker film designed for application on polyester mesh and polyester jersey athletic uniforms. Manufactured without sticky carrier for easy stacking.
No nylon. These materials cannot be layered. Be advised that dye migration has occurred with low energy dyes in polyester and poly-blend fabrics. This is a PVC product, which emits hazardous fumes when cut with a laser machine.
For a full matte finish, do NOT repress. For a satin finish, repress with a siliconized sheet for 5 seconds. For a glossy finish, repress for 5 seconds with a Teflon sheet.

Product Colors



Color availability changes frequently. If you do not see what you are looking for, please contact us by phone or email for availability.
Above colors are representations of vinyl color and should not be used as a color reference. For true colors, please refer to our Economy Flex color card.