ThermoFlex® SSP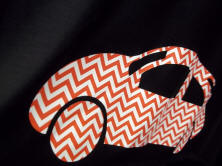 Introducing a revolutionary product, ThermoFlex SSP. These plotter-cut patterns cut and press like heat transfer vinyl, but feel and wear just like screen print. It's soft, durable, and has a great washability. It uses very low cutting pressure and presses for a short time. They are available in 13" x 19" sheets.
No nylon. Be advised that dye migration has occurred with low energy dyes in polyester and poly-blend fabrics.

Please be advised that the platen will leave an impression on some moisture-wicking fabrics, due to the heat and how the garment reacts to it.
Application instructions for moisture-wicking materials:
Damp a cloth with rubbing alcohol (isopropyl alcohol), then gently apply it to the area on the garment you want to apply your design. Allow it to dry and apply your material. This will allow better adhesion to the garment.
Application instructions for dazzle cloth & shiny polyester materials:
We highly recommend you TEST prior to doing large runs. Coated polyester can routinely cause adhesion issues.