Wild Fashion Prints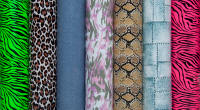 Wild Fashion Prints™ are preprinted transfer materials in popular patterns that add fun to lettering, numbers or your custom design.
You can use Wild Fashion Prints with our ThermoFlex and other fashion lines to add value and pop to your designs.
Application instructions for moisture-wicking materials:
Damp a cloth with rubbing alcohol (isopropyl alcohol), then gently apply it to the area on the garment you want to apply your design. Allow it to dry and apply your material. This will allow better adhesion to the garment.
Application instructions for dazzle cloth & shiny polyester materials:
We highly recommend you TEST prior to doing large runs. Coated polyester can routinely cause adhesion issues.
Product Colors
Above colors are representations of vinyl color and should not be used as a color reference. For true colors, please refer to our Wild Fashion Prints color card.