ThermoFlex®Xtra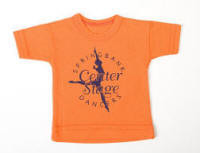 ThermoFlex® Xtra is specially designed for decorating nylon, leather, rayon, and other heat-sensitive surfaces.
ThermoFlex® Xtra has incorporated the desirable features of our popular ThermoFlex® Plus: easy handling, cutting and weeding but with a thicker polyester carrier sheet and low-tack carrier adhesive, enabling easy weeding without lifting the cut image from its carrier.
ThermoFlex® Xtra will also adhere to some silicon-coated materials with sufficient surface texture to permit the adhesive to grip when transferred according to directions.
Columbia Blue, Antique Silver and Old Gold will not layer. These colors cannot have layers adhered on top of them, although we have successfully layered these products on top of other colors.
Use settings for ThermoFlex® Plus for application to polyesters.
Please be advised that dye migration has occurred with low energy dyes in polyester and poly-blend fabrics.
Product Colors
Color availability changes frequently. If you do not see what you are looking for, please contact us by phone or email for availability.
Above colors are representations of vinyl color and should not be used as a color reference. For true colors, please refer to our ThermoFlex® Xtra color card.